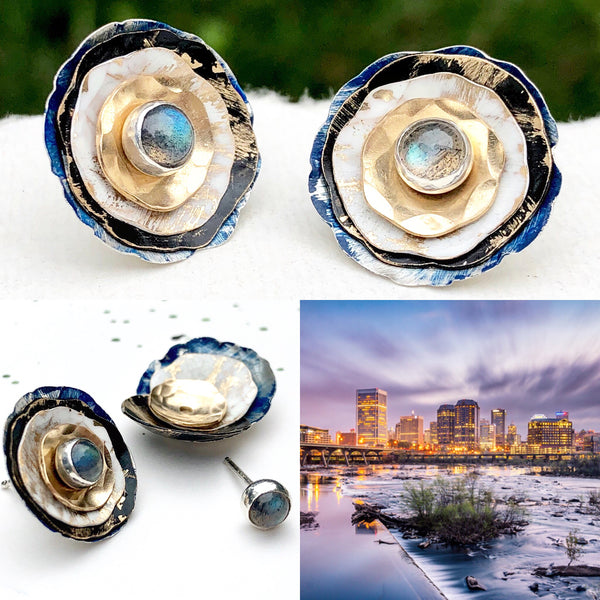 The Earring Bar Collection
My most popular line since it's launch in 2016. With earring jackets ranging from sizes xx-small to x-large, you can transform virtually any stud earring into a look that's new and different.
Whether you buy a complete set of Top Shelf, Destination or Lifestyle Earrings, or the individual earring jackets, you play a part in creating the end look by mixing, matching and layering the ear jackets and stud earrings for a look that is all you.
Shop this collection now
RETROSPECTIVE collection - Inspired by women who changed the world
---
Meet the Maker
Emma Lalumandier is a self-taught jewelry designer based near Richmond, VA.  Her style is clearly organic and is centered around layered pieces that lets the customer have a say in the end look. The designs are natural in a loose, free form way, and the finish is modern, resulting in a strong, feminine design.
Emma is a champion of strong, modern women.  Her Retrospective Collection is a celebration of women around the world who have made advances in the humanities, science, medicine and women's rights.
Her Earring Bar Collection is an innovative approach to jewelry design, basing layered ear jackets and semi-precious stone stud earrings on the names, hues and ingredients of classic cocktails and destination photos.  
A new mini collection "I Weathered 2020" is set to debut mid November and features unique one off pieces, many of which stem from her interactions with customers throughout the Covid lockdown period. As one customer, Barb put it..."we all need pretty little things and a glass of wine right now".
Emma has exhibited her work at the American Craft Council Show in Baltimore, Virginia Museum of Fine Arts and the John Michael Kohler Arts Center. 
Testimonials
Sandy Earrings
Each piece I buy from Emma becomes my favorite. Her quality and attention to detail is on point. I love her creativity and style of work so I keep coming back. The main piece in this order actually took my breath when I opened the box. 🤩Just perfect.
October 2020
Find them here:
Organic Rim Earring Jackets
Best thing ever. This jacket saved all my little earrings. Who ever came with this idea is a smartest person on earth and my personal hero. I'm 65 and my ear start to get bigger. 🥺 thanks a lot.
September 2020
PS - the earring jackets are an original Lamplighter Jewelry design! This review makes me so happy!!
Find them here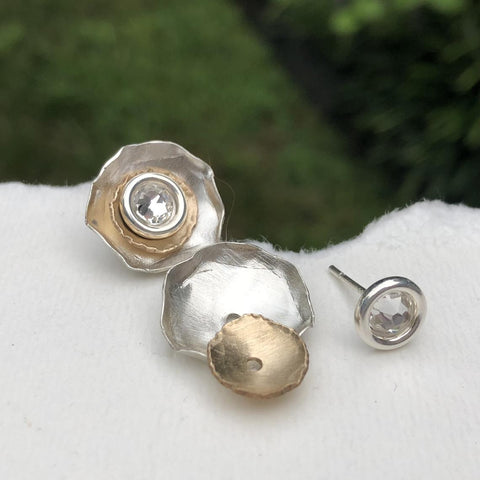 Silver Angel Earrings
My husband purchased me a pair of earrings at Christmas from this seller. I loved them so much that I had to buy a pair for my best friend's birthday. She loved them! They are so unique and come packaged adorably. Highly recommend!
July 2020
Find them here